2007 :: UPDATES :: ARCHIVED
4/15/2007
3D Design Gallery update:
Part of the Lab that was originally created in Cararra is now redesigned in SketchUp Pro 6.
3 Samples of the Lab used to create the SYN in the M comic found in the 3D Gallery
2/6/2007
3D Design Gallery and New Animated Gallery update:
Finally, I've assembled the entire Cuna village together for the MOHO comic in SketchUp Pro 6. I technically built all the models in SketchUp Pro 5, but they, Google, just released Pro 6 as a FREE upgrade. I didn't think I'd be able to recreate all the models that I had originally built in Carrara Studio 3. I really had very little understanding of 3D when I started with Carrara and could only make certain things. I got most of what I wanted but really didn't figure out how to add drawings or textures to what I needed. SketchUp has been a lot easier for me to learn, though I'll say Carrara is much easier to learn than any high end program like Maya. There are still plenty of thing for me to figure out in SketchUp and I might get the next version of Pro version of Carrara or use Blender to animate the buildings I made in SketchUp. I think they might be better suited for it and SketchUp is having a hard time sometimes dealing with the entire village. It might also be my computer.
I posted about 40 images of Cuna. There are some structures that I hadn't posted before like the Holy Well that sits in the middle of the village, the sewing circle and poles that are used for the looms in sewing and the Wall that surrounds the village with its Zanox symbol emblazoned on the doors.
3 Samples of Cuna Village found in the 3D Gallery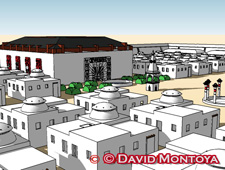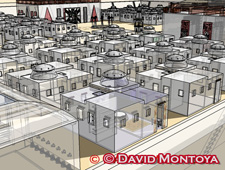 Sample of Cuna village animated tour - Find the longer version in the New Animated Gallery.
1/20/2007
3D Design Gallery update:
Revamped the exterior of the Laundry and Kiln building for the Cuna village. That finishes all the buildings in the village. I've already recreated the wall surrounding Cuna, but have a couple of small things left to design. The holy well at the center of the village and the Sewing circle stand. I've been sick already twice this year, so lets hope that is all for the year. I still have a sore throat right now.
3 Samples of the Cuna Village Laundry and Kiln building in the MOHO comic found in the 3D Gallery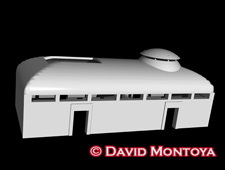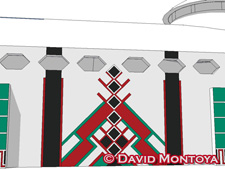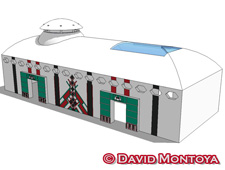 1/8/2007
3D Design Gallery update:
The exterior of the Stable for keeping the Cuna Village's animals is completed.
3 Samples of the Cuna Village Stable in the MOHO comic found in the 3D Gallery